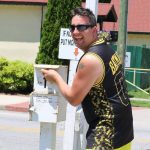 David Wargon of Georgia talks about his Alien Encounters including Reptilian Encounters. David describes an experience which involved the reptilians utilizing a three pronged device to extract what he believed to be his Soul. After his Soul was replaced back into his body, David underwent some personality changes for a period of time.
David talks about how good ETs conducted an operation on him which involved the removal of implants installed in him by bad ETs and how good he felt afterwards. David shares with us his philosophies on Life and how he feels something BIG may be coming down the pike.
In Part 2 David Wargon talks about his Astral Voyages to the Belt of Orion and what he found there. David also discusses Reptilian Astral Sentries, Parallel Realities, his voyage to Mars on board a craft, his ability to work with elemental powers, and the Mind Controlling Moderators on Internet Psychic Forums.
David Wargon's Facebook Profile is: David Wargon
David's E-Mail address is: wateraries23@gmail.com

Part 1:
Part 2 – Members Only:
Download