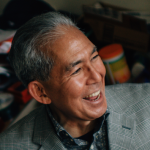 Professor Darrell Hamamoto, the author of "Servitors of Empire: Studies in the Dark Side of Asian America." Professor Hamamoto talks about the emergence of Asian Social Justice Warriors and the complicity of the UC system in creating a distorted version of Ethnic Studies.
In Part 1 Dr. Darrell Hamamoto discusses the role that Asian Americans have played in the Social Justice Warrior movement and how some of the Asian Americans were groomed for their role due to their family's being "talent spotted" and co-opted by the Military and Intelligence community. Dr. Hamamoto describes how American Colleges have become engines for Social Engineering and how Cultural Marxism, Multicultural Diversity and Gender Neutrality are being taught.
In Part 2 Dr. Darrell Hamamoto discusses how Cultural Influences have shaped American Society and cites the work of authors such as J.K. Rowling, Suzanne Collins, Dan Brown and others.
Dr. Hamamoto's Youtube Channel: Professor Hamamoto
Dr. Hamamoto's Facebook Page: Servitors of Empire
Dr. Hamamoto's Book: Servitors of Empire
The Chancellor who kicked out Dr. Hamamoto is Ralph Hexter
Part 1:
Part 2 – Members Only:
Part 2 – Members Only: Mirror Stream

***If you experience unreliable playback or looping issues with part 2 the mirror stream will fix this.***
Download
Part 1: mp3
Part 2 Members Only: mp3
Part 2 Mirror looping fixed: mp3